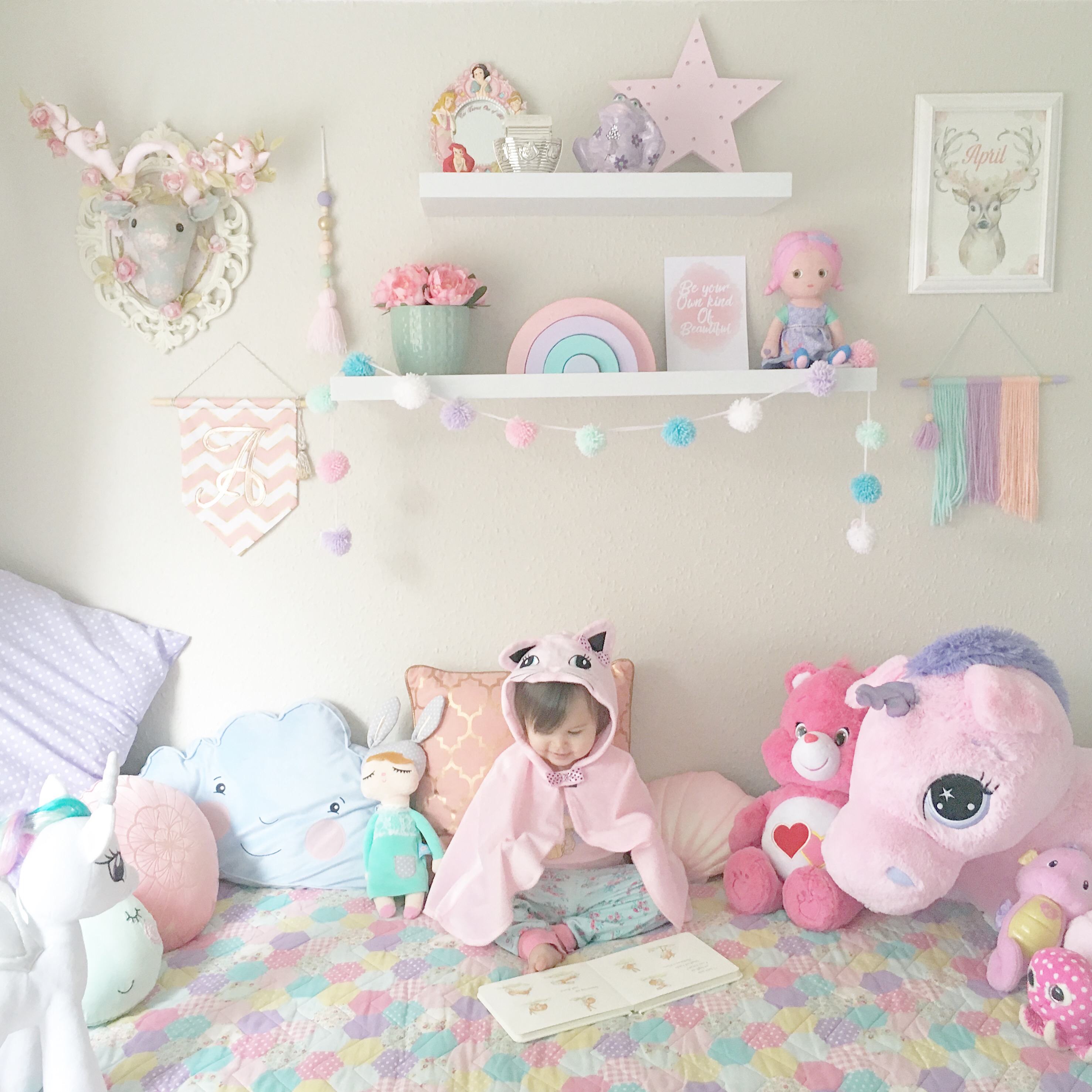 There's something so uniquely exciting about decorating a nursery. Creating a little world for your baby to love and grow in to can feel like a daunting task, but it really doesn't have to be. I often gets lots of positive comments about the nursery I created for my little girls, so thought I would share some handy tips for anyone embarking on this rite of passage for the first time.
1. Keep the big things neutral
As tempting as it was to pick up the brightest pot of pink paint and go crazy on the walls, or paper the entire room with care bear wallpaper as soon as possible, I held back and painted everything a calming grey and chose cream curtains and carpets etc. This means you can change the room according to your child's likes and dislikes really easily and as often as required without too much effort. A care bear fan today may absolutely loathe them tomorrow. With neutral walls you can turn a dinosaur themed room in to a mermaid lagoon super quick with just a change of bedding and accessories. Go neural for your inevitably fickle future child.

2. Decorate with functional items
You accumulate so much stuff when you have a child that you sometimes feel like you're drowning in it all. Save money and space. Choose decorative items that are also fun to play with, that way you won't be buying unnecessary clutter with only one purpose. Some examples are wooden building blocks, quirky dolls and interesting figurines.
3. Avoid age specific decor
They grow so fast. It's cliche but true. Things we bought or were gifted that were baby specific (e.g. Big wooden letters spelling BABY) were cute but were ultimately thrown out/given away so quickly it now makes me avoid them when buying for others. I now go for things my girls may well continue to love all their lives like unique wall hangings or dreamcatchers.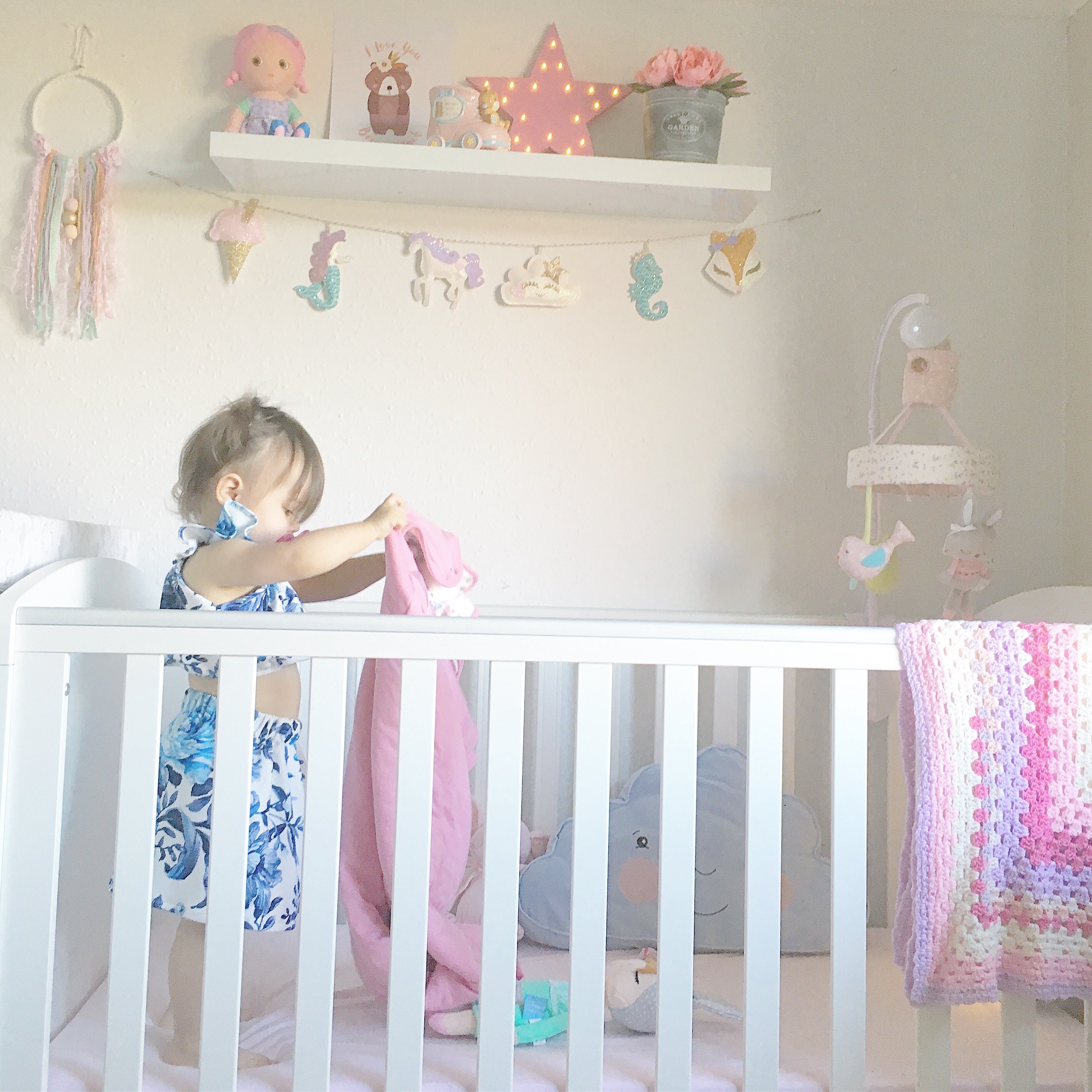 4. Storage in high places
If you are able, shelves and cupboards that your little one can't get to are a really good idea. They have a habit of pulling every single item out of every drawer they can reach, so keeping most items high up will save you a lot of tidying up.
5. Choose thick/blackout curtains
Or a blackout blind. When baby arrives your entire world will revolve around the new holy grail which is sleep. Keeping baby's room consistently dark when it's their bedtime is a small but significant step to achieving that holy grail.
6. Don't put things within arms reach of the cot
At some point baby will grow big enough to reach, as one friend found out when she found baby surrounded by hundreds of nappy sacks one morning that he had clearly dragged out of the adjoining baby change table during the night. This is so dangerous, thank goodness nothing serious happened, but it could have. You never know when baby will develop a new skill so it's best to preempt it and just keep things like that away from the cot just incase.

7. Have fun with it
Having a baby and decorating a nursery for the first time is so exciting that really if you want to paint the entire room bright red and leave everything all over the floor so baby can have a free for all you should just do it your way. Create a room that you love and want to spend time in, and baby will pick up on that and love it too. As parents we can't help but put our stamp on our baby's room and clothes and toys, we only have our taste to go off of after all until they grow a little and start developing their own. And if a little bit of you goes in to that room, the baby will love it all the more.
I'll do another blog post at some point with some specific ideas for decor and my favourite shops and brands.
Have fun decorating your nursery!
Xx
Kate