We were invited to visit the York Nomination jewellery store to have a look at their current bracelet deal and review the experience…and it did not disappoint!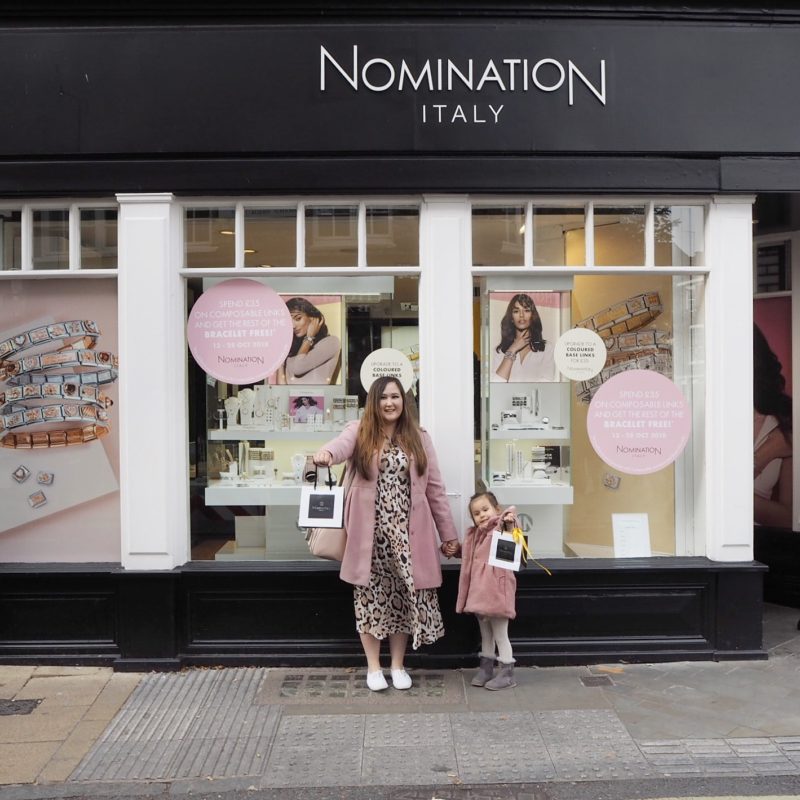 The Store – York Nomination (Low Petergate)
The Deal – Spend £35 on composable links and receive the rest of the bracelet free.
We arrived at the store and were immediately greeted by possibly the friendliest shop assistant I have ever met…when told we wanted to look at the the composable bracelets you could see her face light up.  As she showed us the different base colour options (silver, gold, rose gold) she explained that they were made from hypoallergenic stainless steel so would not irritate April and Ariel's skin…perfect!  You can then build your bracelet link by link using their enormous range including 18k gold angels, precious stones, silver charms and double links.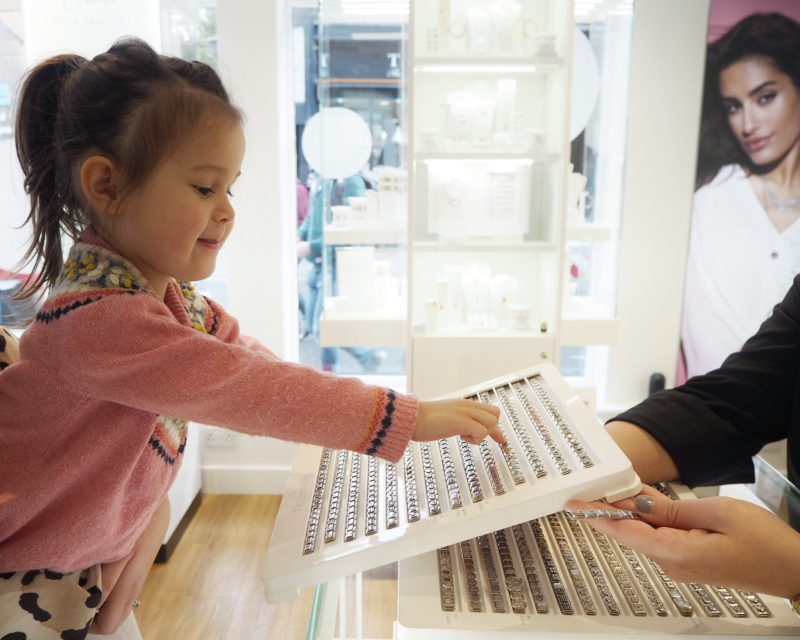 April and I chose a silver coloured base each, and when our assistant then brought out some of the trays full of links…that's when the real fun began!  There were literally thousands!  Choosing was almost impossible…there were so many different kinds to pick from…luckily I already had a theme in mind.  I wanted a bracelet centered around the importance of 'family' – something both April and I could have and keep building on in years to come.  As we looked at tray after tray of beautiful links and considered combinations, our assistant spoke passionately about the owners of Nomination – a little Italian family who are still running it today, all made in Italy and the gems hand set.  You could tell from the way she spoke that it the business meant a lot to her, knowing the history and love and care that goes in to every piece made it all the more meaningful and special.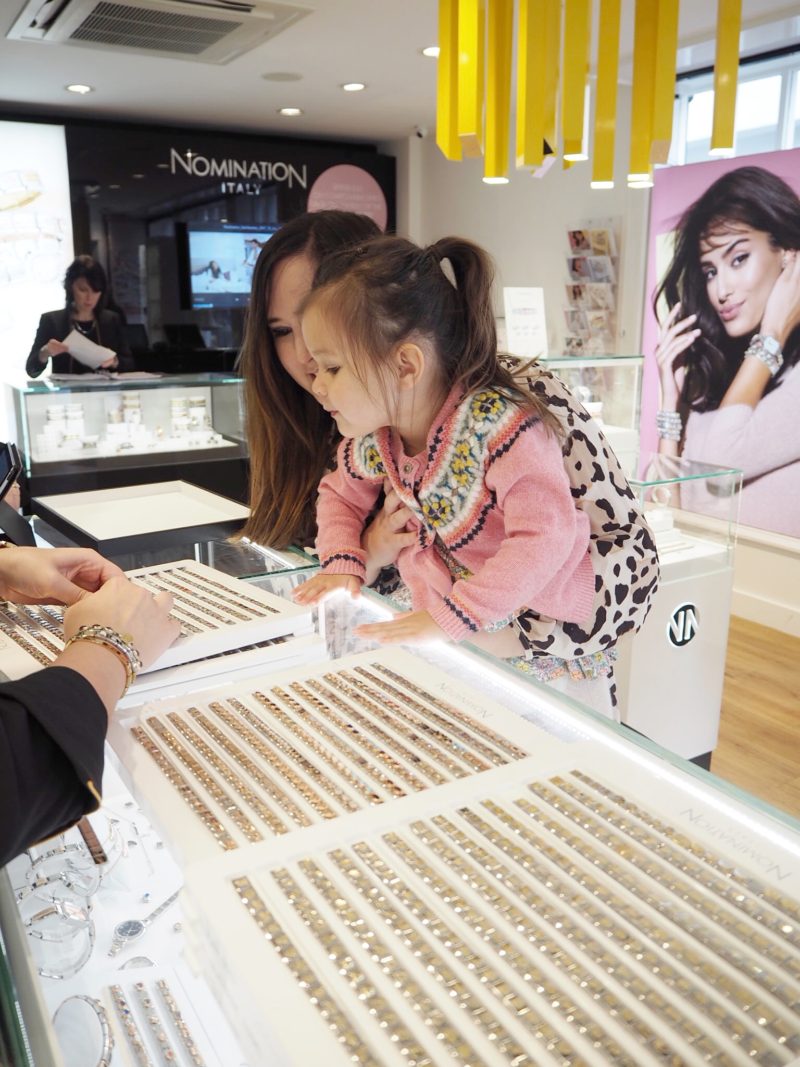 What did we choose?
April and I both chose our initials, and a 'Family' link so that our bracelets would forever be connected.  We also chose a link decorated with a Hibiscus flower each, that flower is meaningful to our family because it happens to be my husband's favourite flower, my bedroom was decorated with the flower when I met him at University, and it reminds us of our honeymoon.
I also chose a link with a rainbow on to represent our family weathering the rain and the sun together and always coming through.  My favourite link was a gorgeous rose gold angel, set with a stone that represents family…perfect for my family themed bracelet.  I chose a link saying simply 'mum' – representing the most important role I have ever taken on in my life.  And lastly…I just had to have the special 'York' link, not only is it where we have chosen to settle as a family…it will also forever mark where these bracelets were composed and the lovely day we had together as a family building them.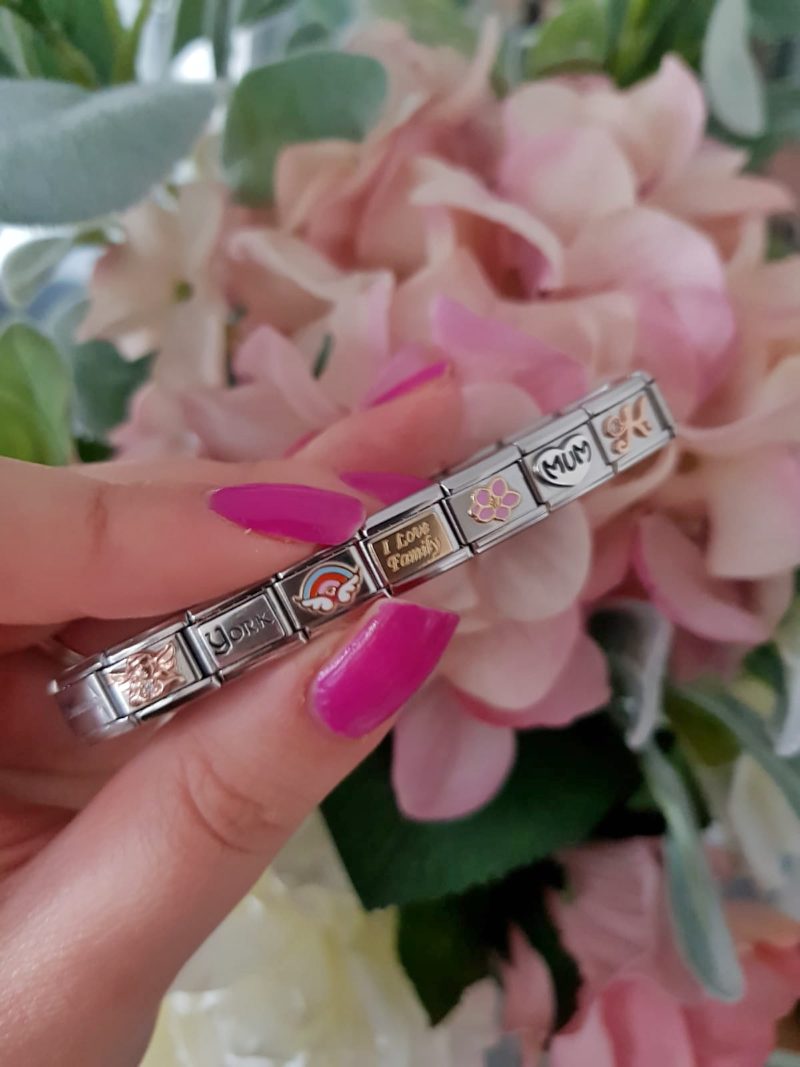 I am already thinking about what else I would like to add in future, maybe the names of my daughters on some double links, and maybe their birthstones too.
We could have stayed all day, there were honestly an infinite number of links and combinations to choose from…it was more like an experience day than a visit to a shop.  The staff were unbelievably helpful and knowledgeable.  April can be quite shy but she was at ease immediately and had the time of her life looking at all the beautiful links…she chose a Flamingo finally to complete her bracelet…I thought that link perfectly summed up her playful spirit as a toddler in the store that day.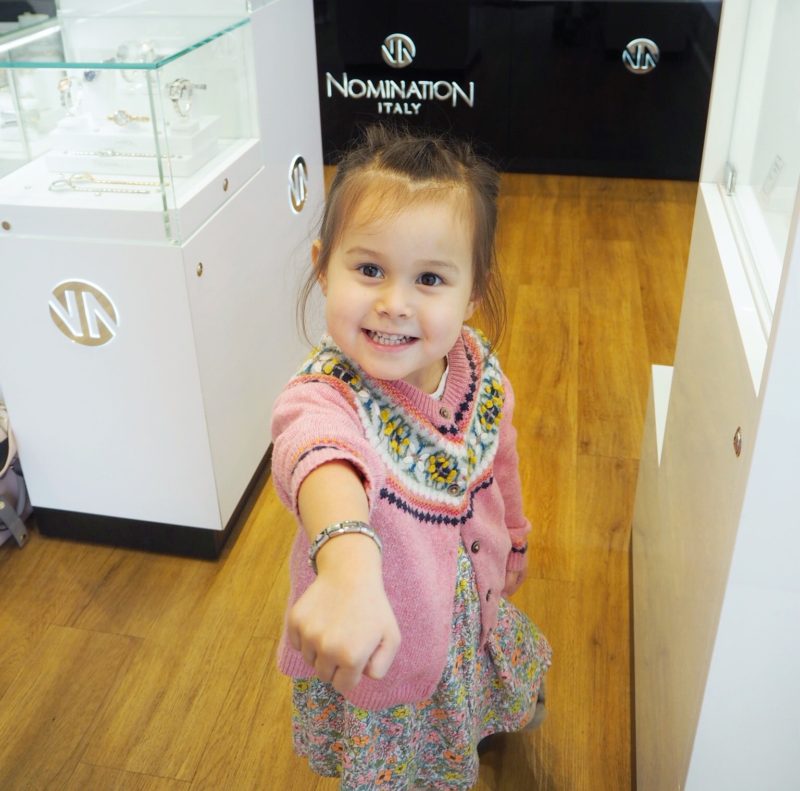 We had the most amazing time and can highly recommend the Nomination composable bracelet range as a family experience, or a gift to someone special.
Going in to the the store and hearing the story and choosing the links together was a magical experience that we won't forget.  We came away with more than just jewellery that day, we have left with some lovely memories.  What's wonderful is that we can keep building on our bracelets now as the years go on and they will become more and more special each time.
One thing I really liked about the Nomination composable bracelet range is the fact that you can spend as much or as little as you like, there is such a huge range of links including some really affordable ones at around £20 and the prices rise as you move in to the more premium ranges.
Our bracelets were delicately wrapped up in boxes and finished with the iconic yellow ribbons.  April was ecstatic!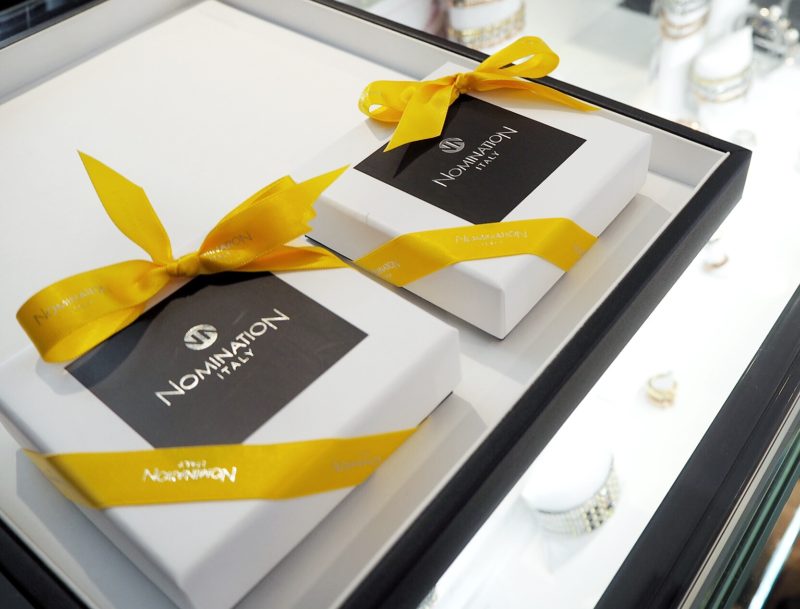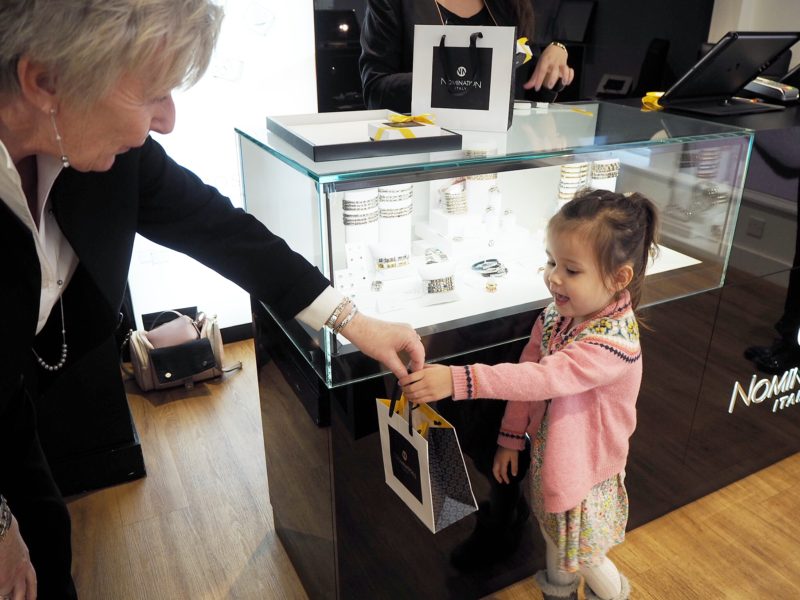 We also couldn't leave without a matching bracelet for little baby Ariel…her story has just begun so we chose one link for her – a letter A to match her big sister's.  I am so excited to come back and add to our family bracelets!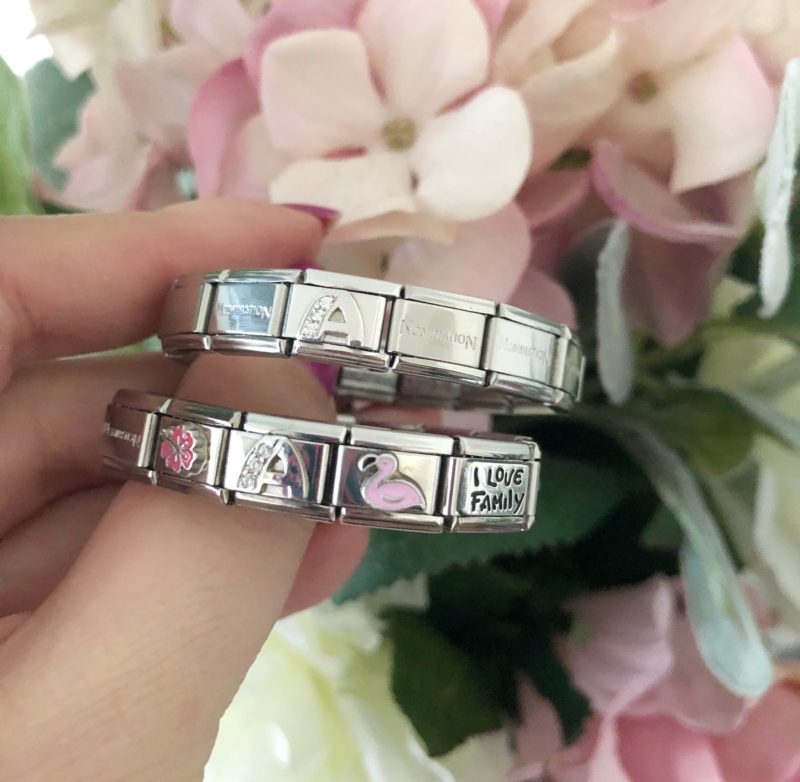 We had a lovely time at the Nomination store in York, pop in if you are ever in the city!
The deal ends on the 28th October. x