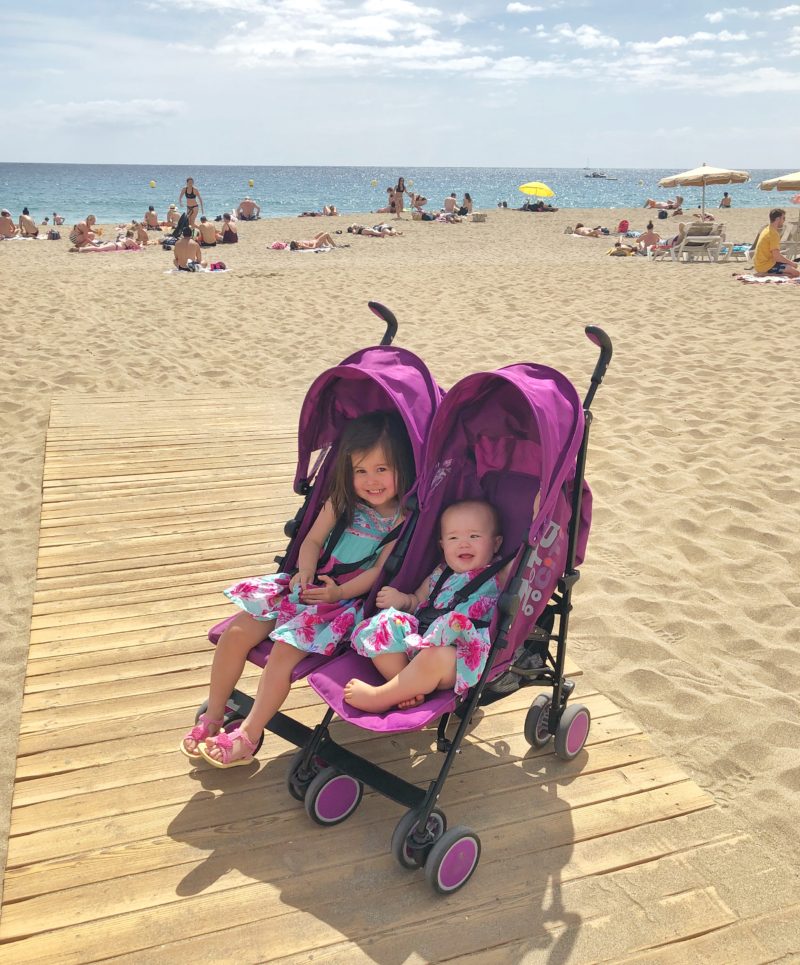 We have just arrived back from our first ever family holiday abroad (well anywhere) with our two kids in tow, and we have given the Zeta Citi Twin Buggy a right run around so I thought I'd share my thoughts on it with you.
A buggy for travelling with kids
We were looking for a double buggy that would accommodate a baby and a toddler, that would be easy to fold up and down, would fold in to one piece (as opposed to two separate pieces like the Phil and Ted's double buggy we had been using day to day at home) and most importantly…would recline.  Trust me, if you want even a small chance of having one drink or meal in peace on your family holiday your only hope is that the baby will fall asleep in the heat at the opportune moment – and a recline on your buggy significantly increases your odds.
We wanted something light and practical for taking on a family holiday. Something cheap that would be perfect for travelling with kids and that we could take away with us and not worry about.
The Zeta Citi Twin Buggy did all of this.
It is suitable from birth to 15kg (the weight of your average 3-4 year old for anyone who like me, has no idea what 15kg is) and has a separate recline for each seat.  It's super easy to fold up and down, really great for the airport because they asked us to fold it up and down several times even before we stepped foot on the plane (going through security, going through barriers with size restriction bollards, etc, etc).  It's also pretty lightweight for a double buggy.  I mean, it's not light…but double buggy's are usually very very heavy…and this one isn't too bad in comparison.
It also folds down to a reasonable size, we had no trouble getting in the boot of the million cabs we hailed whilst abroad!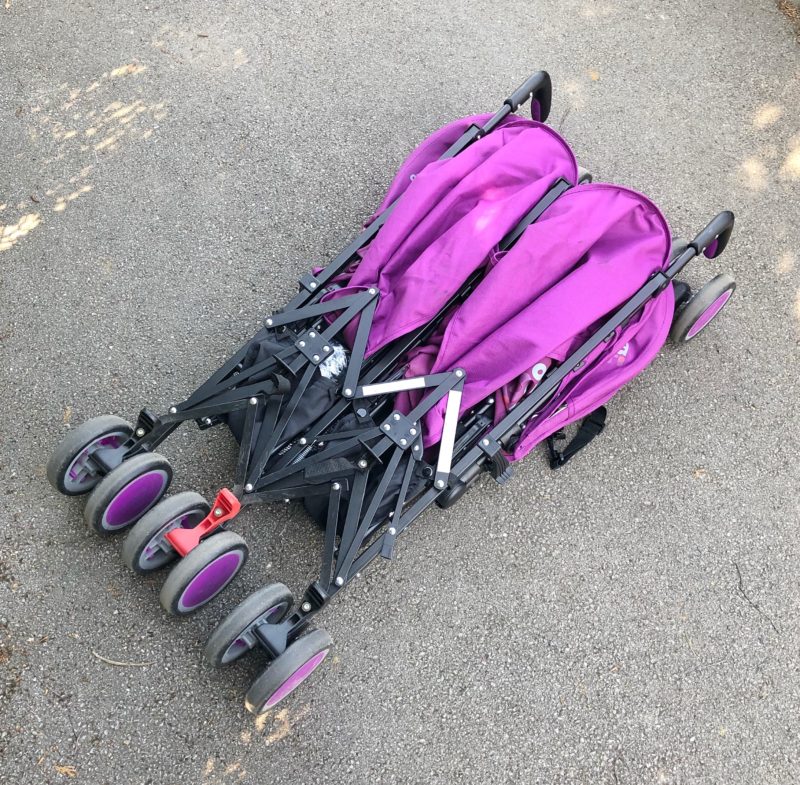 It has lots of storage room in the baskets down below, and we could comfortably hang our changing bag and beach bag on each of the handles without it tipping.
It came with a rain cover and fitted sunshades, although we could have done with the sunshades being a little bigger as they only covered the kid's upper bodies, we were always topping them up with sun cream though to be safe so it wasn't a major issue.
The major selling point for us though was the price.  At around £80 it was much cheaper than most of the other double strollers I had been looking at.  Even though some of the more expensive strollers may look nicer and perhaps handle better, I really didn't want to be spending much on a buggy that would no doubt be getting ragged around the entire holiday, being thrown on to planes and conveyor belts and folded up and down endlessly and dragged through mud and sand and getting ice lollies and juice and paella thrown all over them.  Cheap and cheerful was perfect for travelling with toddlers.
I suppose another way round this may be to buy something second hand for use on your family holiday to cut costs, but after being burned by second hand buggy's before (Grumpy still resents me for the atrocious state of some of the things I've bought second hand – buggy included) that wasn't an option for us!
The only things that were bit annoying about the Zeta Citi included the recline on one of the seats was a bit stiff and requires two hands unlike some other ones I have tried.  The foot bar is at a funny angle so sometimes April's legs would dangle off which wasn't a big problem, just looked a bit weird sometimes but she was comfortable.  It has quite small wheels (probably so it's smaller and lighter, both pros) so struggled occasionally with curbs and potholes – again no big deal really.  Maybe if your family travel plans are a bit more extreme and adventurous you may want a more robust buggy?  Also, as I said, would have loved bigger sun shades but they were adequate.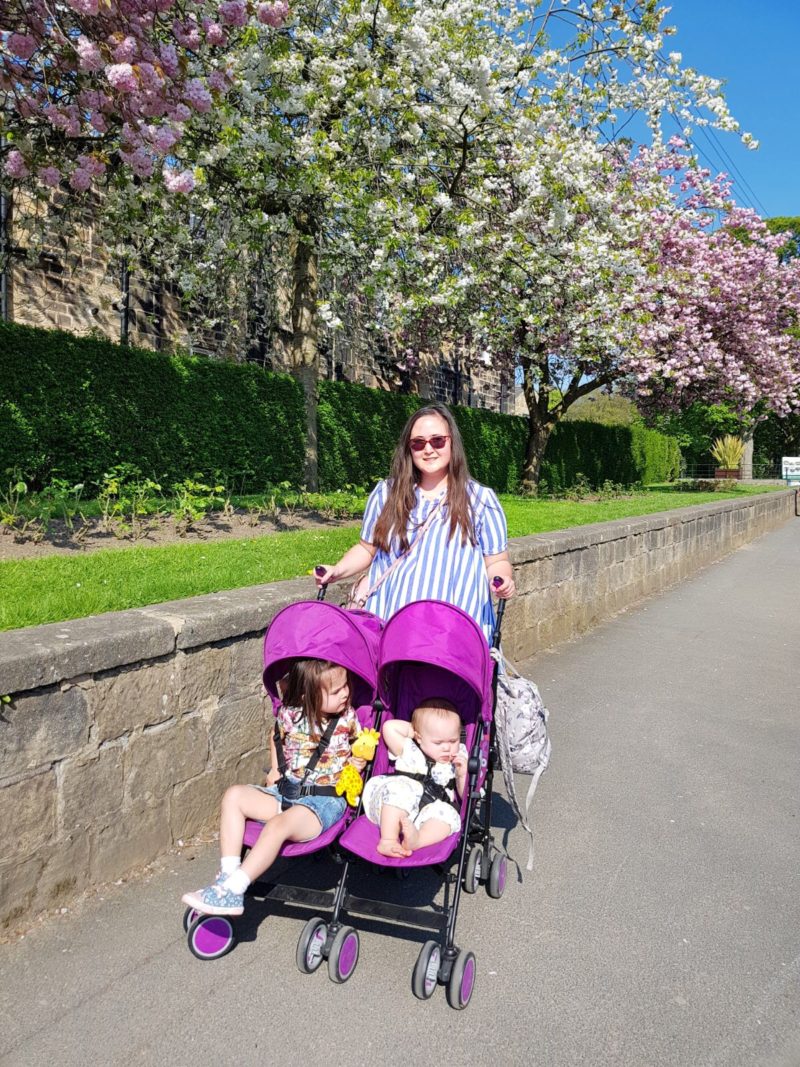 All in all, for the price we were very happy with our holiday buggy choice.  It was cheap, it comes in loads of cool colours, it was light, easy to use and it did the job! Everything we wanted for family holidays.
I'm glad we went for a cheap buggy because as I suspected, it's covered in marks and stains and scratches – the signs of a good holiday!
The Perfect Family Holiday Stroller
If you're looking for a double buggy to take on your family travels I'd definitely recommend the Zeta Citi Twin for a pocket friendly and holiday friendly fold up stroller.
We bought ours in Plum from Amazon.
It's currently £129 (still cheaper than a lot of double strollers) but if you're happy with other colours they have pink black and red (linked) in a price more like what we paid for our purple one.
Happy Holidays!
x
Kate